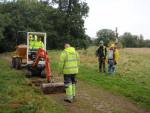 Since early October, the EAS has been monitoring work currently being carried out in Forty Hall by Enfield Council to create new gravel paths as part of the borough-wide "Greenways" programme.
The scheme is part of a London-wide initiative to create an extensive network of accessible paths for shared use by pedestrians, cyclists and wheelchair users away from heavy traffic.
There are several "Greenways" planned for Enfield, and more details about the project can be found here.