Enfield Archaeological Society (EAS) have been assisting Museum of London Archaeology (MOLA) again, this time in their monitoring at the Bush Hill Park Roman settlement.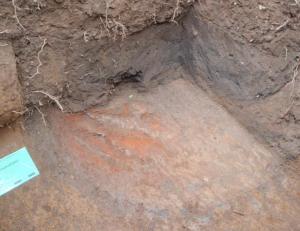 Contractors for Enfield Council have opened service trenches to the rear of several Council owned properties. One such trench half sectioned a large Roman boundary ditch, whilst a few gardens away, a similar trench revealed about one quarter of a circular feature outlined by a dark deposit, and containing an area of intense burning suggestive of an industrial process.
With the recommendation of English Heritage's Greater London Archaeological Advisory Service (GLAAS), EAS were invited to investigate this latter feature. On 22nd & 23rd April 2013, Dr. Martin Dearne lead a small team to carry out the work.Careful excavation revealed that the dark organic deposit around the perimeter of the feature was almost certainly all that remained of the vertical timber lining to a Roman well shaft.
Having gone out of use, the well appears to have been back-filled to within about 70cms of the Roman ground surface and a dished hearth installed in the resultant circular hollow, which probably served to keep it out of the wind.