EAS Publications
As well as the formal publications listed below, we also produce short leaflets explaining our latest work and discoveries, usually available on-site during our public events and at our monthly lecture meetings (details above), available at cost-price.
Copies of our excavation and research reports are held by the Enfield Museum Service
---
In Print
First Stop North of Londinium:
The Archaeology of Roman Enfield and its Roadline Settlement
Martin J. Dearne with Geoffrey Gillam and Roger Dormer 2017
£33.50 inc. p&p (uk delivery)
Please note that, due to coronavirus restrictions, we are currently unable to fulfil orders.
---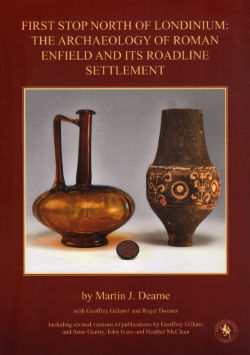 A definitive description and analysis of all the known Roman archaeology in the north London borough of Enfield, this monograph brings together antiquarian finds and re-presented and augmented reports on work from the 1950s to 1970s with the more recent excavations of the EAS as well as Museum of London Archaeology.
With prefatory chapters on aspects of the area including its prehistory, the volume documents what is known of the settlement that grew up here alongside Ermine Street, the road itself, a possible tannery, other settlement sites and often higher status burials.
A synthetic chapter examines the role of all small roadside settlements around Londinium in terms of function, chronology and their relationship to the provincial capital and discusses the possible economy of this area of the Lea valley.
With full illustrated stratigraphic and finds reports for over 45 individual sites (including samian ware, brooches, metalwork and important Roman glass finds), it presents the evidence for what may have been a broadly rural landscape, but with a quasi-urban settlement that may have reflected the needs of a cursus publicus system operating along one of the main roads of the province.
355 pages; 137 black and white and colour figures; 19 black and white and colour plates.
---
Enfield At War: 1939-1945
Geoffrey Gillam & Ian Jones (Revised Edition, 2019)
£29.00 inc. p&p (uk delivery)
Please note that, due to coronavirus restrictions, we are currently unable to fulfil orders.
---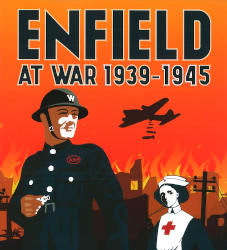 A detailed look at how the people of 3 districts, now one London borough, lived, worked and survived on the Home Front in the first conflict where civilians, including the youngest children, were as much at risk as those in the Forces.
229pp, over 650 illustrations in monochrome and colour.
---
Enfield At War: 1914-1918
Geoffrey Gillam & Ian Jones (Revised Edition, 2014)
£18.30 inc. p&p (uk delivery)
Please note that, due to coronavirus restrictions, we are currently unable to fulfil orders.
---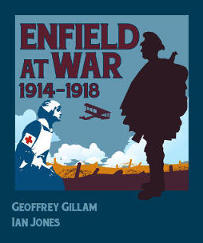 This greatly enlarged and lavishly illustrated new edition of the late Geoffrey Gillam's groundbreaking work, originally published in 1982, is being produced by the Enfield Archaeological Society in collaboration with the Enfield Museum Service to commemorate the beginning of the First World War.
For the first time the people of Enfield in common with the rest of the country were directly affected by a major war, which would change society in ways no-one could have imagined in 1914. Many thousands of young men went off to fight and thousands more returned wounded to the local hospitals, including Edmonton and Broomfield, for treatment. Their jobs were increasingly filled by women, especially in the huge munitions works like the Royal Small Arms Factory and the Ponders End Shell Works.
For the first time, civilians, men women and children, found themselves in the Front Line after air raids brought a new terror. As the war dragged on, shortages, rationing, conscription and the blackout affected people's lives. Thousands of families like the Sims of Ponders End and the Tuthills of Lancaster Road lost men and women to war, accident and disease while others suffered permanent disability.
---
Out of Print
The Royal Palaces of Enfield
Ian K. Jones and Ivy W. Drayton, 1984
---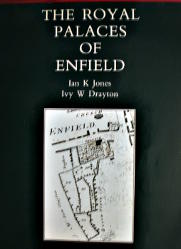 The previously published accounts of Enfield and Elsyng Palaces are not only limited in scope but they also contain inaccuracies; some writers misunderstanding the references and on occasion confusing the two sites.
Ian Jones has re-examined the previous evidence and used new material to tell the story of the development of the two buildings and their subseqent demolition; Elsyng in the 17th century and Enfield in the 20th century.
Between 1963 and 1966 Members of the Society, under the direction of Miss Ivy Drayton, carried out large scale excavations on part of the site of Elsyng Palace and her hitherto unpublished excavation reports are included here.
Although archaeological research of Elsyng Palace has advanced our understanding of the site significantly since this book was published in 1984, The Royal Palaces of Enfield is essential background reading for the site, containing useful summaries of the various documentary evidence and original archaeological research carried out by the EAS between 1963 and 1967.
---
---
EAS Occasional Research Notes
EAS Occasional Research Notes are free to download and are pdf format academic papers, usually by society members, which seek to disseminate research work connected to Enfield and adjoining areas which it is not convenient to publish in other formats or on other platforms. The series is edited by Dr. Martin Dearne; any queries or proposals for papers should be sent to him at research
EAS Occasional Research Note No. 1
The Roman 'Roadline Settlement' at Cheshunt Park Farm, Hertfordshire: A Review of the Evidence.
---